Welcome to Harvey Brothers LLC
Industrial and Commercial General Contractor
Harvey Brothers is a General Contractor serving the state of Hawaii including Kauai, Oahu, Molokai, Lanai, Maui and Hawaii. We have over 30 years of experience in the industries of water treatment and heavy construction for industrial, commercial, municipal and utility construction.
Harvey Brothers LLC is a construction company owned and operated by James "Kevin" Harvey. Kevin had 20 years of experience in water treatment and heavy construction before he started Harvey Brothers LLC in 2005. Prior to starting Harvey Brothers LLC Kevin was a superintendent for a large construction company running multi-million dollar projects.
Hawaii's Premier Water Treatment and Industrial Contractors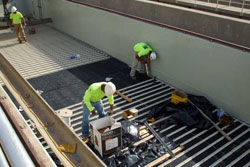 Harvey Brothers LLC is Hawaii's premiere water treatment contractor for several reasons. Over the years in Hawaii, with a reputation of working together to make projects successful, we have developed strong relationships with customers, engineers, subcontractors and suppliers. Our experience means with Harvey Brothers LLC, you can expect quality work being done faster and with fewer problems. This alleviates headaches and extra expenses that can arise during construction and also allows for accurate estimates of project completion. We have a strong work ethic, take pride in being good at what we do, and still believe in customer service.
Please browse our website to see the scope of projects we have the capacity for, as well as the thoroughness and quality people have come to expect from Harvey Brothers LLC.
Call
808-237-1415
or click for a
Construction Quote Request
.
Serving all of Hawaii and the Hawaiian islands including Kauai, Oahu, Molokai, Lanai and Maui, Hawaii.
Commercial Construction Services:
Heavy Industrial
Excavation
Grading
Concrete
Pipe
Demolition
Crane Rental
Design/Build
Contact Information:
Harvey Brothers LLC
PO Box 523
Kaaawa, HI 96730

Office: 808 237-1415
Fax: 808 237-1819
Cell: 808 479-2685